A Rare Case of Bobblehead Syndrome
Sunil Patel, MD, in his 30 year career as a neurosurgeon, had never seen a case of the rarely diagnosed Bobble head Doll Syndome, until he met Mickey, a typical two year-old toddler. The condition is named for its characteristic symptom a "yes-yes" head bob, which is often associated with cystic abnormalities in the third ventricle that also produce hydrocephalus.
More at ProgressNotes, MUSC's Medical Magazine.
Related People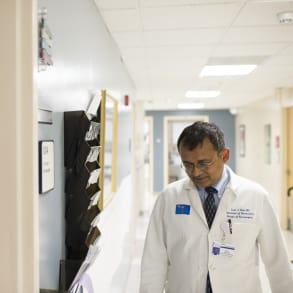 Dr. Sunil Patel is board certified in Neurological Surgery, with additional Fellowship training in Skull base Surgery, Cerebrovascular Surgery, and Microneurosurgery. He has been in practice for over 20 years and is currently the Chair ...