As an extension to the MUSC Health Virtual Urgent Care online platform, patients who need specimen collection for testing for respiratory illness or "COVID-19-like" symptoms will now have access to an MUSC Health respiratory specimen collection site. This drive-through site is in the parking lot of the Citadel Mall campus, outside the MUSC Health West Ashley Medical Pavilion. 
The MUSC Health West Ashley Medical Pavilion is not a specimen collection site for this purpose. Signage will direct patients with testing orders to the entrance of the secure site in the parking lot. Providers within the site, wearing the appropriate CDC-recommended personal protective equipment, will quickly collect specimens from only those patients who have screened into the system as "high risk" for respiratory illness, including possible exposure to COVID-19.
"MUSC Health is leading the nation in how we're helping people in the community who are concerned or worried they have contracted COVID-19. By offering these services not just to our own employees and patients, but the general public, it's just another example of how we are trying to stay in front of this," said Alice Edwards, administrator of Ambulatory Services at MUSC Health.
On March 7, MUSC launched access to free respiratory illness screenings using its virtual urgent care telehealth platform. Currently, using a promo code (COVID19), South Carolina residents can engage in a free online health care screening. There are no age restrictions on who can be screened, meaning both adult and pediatric patients can be screened through the online platform.
Although online screening is free, it is important to note that specimen collection available at the drive-through site and subsequent laboratory processing will be billed to patients' insurance providers or considered self-pay. As always, patients can access the MUSC Health financial assistance team if they encounter difficulties or barriers to payment. Patients will receive information about collection and testing procedures prior to their arrival at the collection site.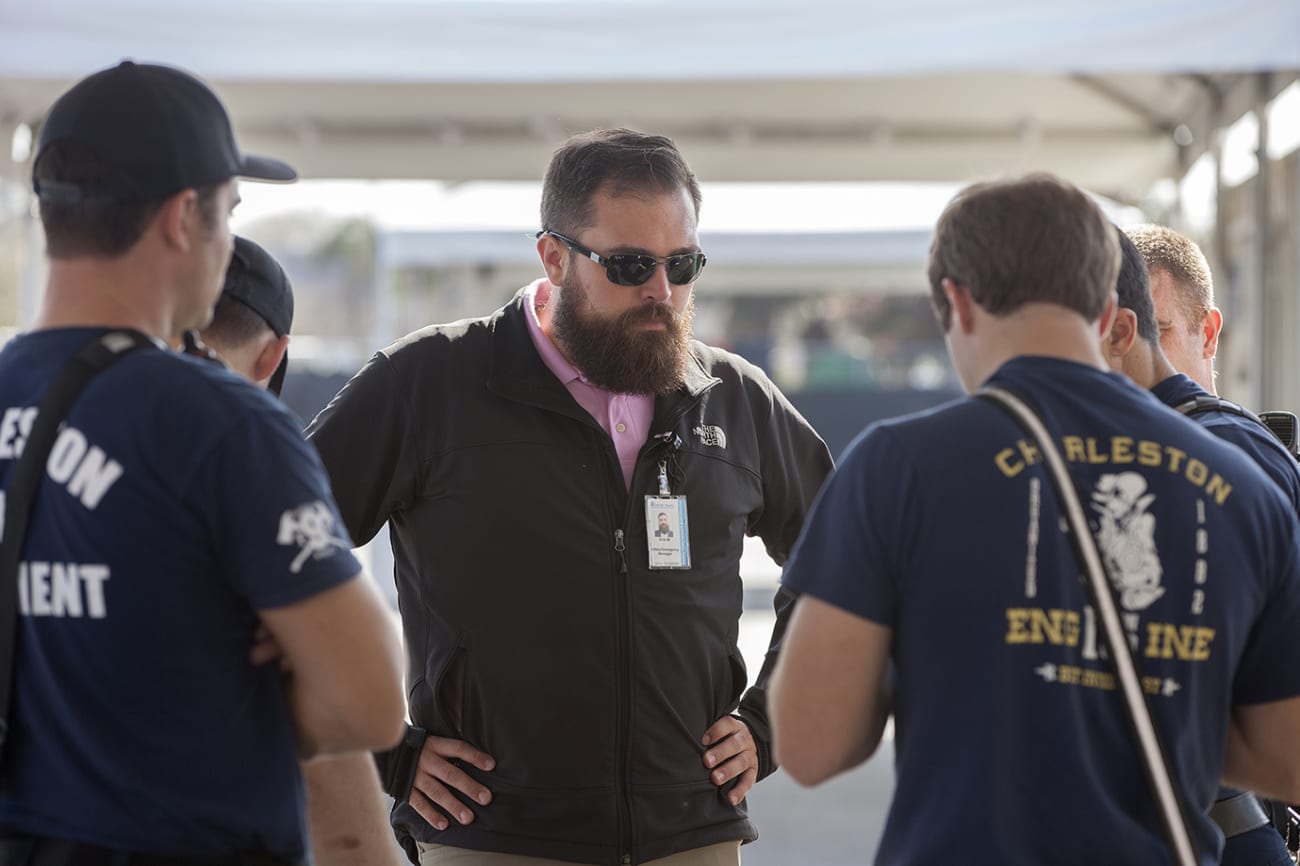 Erik Modrzynski talks safety and logistics with members of the Charleston County Fire Department the day before the collection site was set to open.
The combined effort to provide direct and timely access to screening and specimen collection for possible patients with COVID-19 exposure or suspected respiratory illness identified through the MUSC virtual urgent care platform is unique nationwide. For example, while other health systems are offering drive-through specimen collection, "tent-style" walk-up sites or telehealth to help mitigate the spread of COVID-19, this is the first known combination of telehealth screening and drive-through specimen collection to address and mitigate the potential exposure to and spread of the virus.  
"This is a very innovative use of technology to help mitigate the spread of COVID-19, and I am incredibly proud of our MUSC Health care team for working so hard and quickly to make this option a reality," said Patrick J. Cawley, M.D., MUSC Health CEO and vice president for Health Affairs, University. "We are considering additional locations throughout the Tri-county area and our statewide system, should they be needed. Our state and local-level partners are in the loop on what we're doing and seem appreciative of our leadership with this model. We want to do everything we can to think out of the box in terms of how we can help the community during this time."  
It is important to note: This is not a self-select drive-through or walk-up service for anyone in the community who has a health concern; individuals who report to the site for specimen collection, but do not have a testing order through the MUSC Health Virtual Urgent Care platform, will not be allowed to enter the secure site.
"What we have created is scalable. We've got the operational blueprint now, so going forward we should be able to implement this wherever the need may arise."
– Tom Crawford, MUSC Health chief operating officer
A major concern for health care providers remains exposing vulnerable or noninfected patients to those patients who do have the virus and arrive to seek care in clinics, waiting rooms, hospitals and other such areas. 
"By keeping the collection site separate from our other facilities, we feel it offers a safer environment – both physically and psychologically – not only for those who are having specimens collected but also for our care team members as well as patients who might be seeking care for completely unrelated issues," said Erik Modrzynski, manager of Safety, Security and Emergency Programs for Ambulatory Services at MUSC Health.
"If this becomes widespread, we are prepared to partner with our affiliates and other institutions, both locally and statewide, to make sure we are able to provide the proper care to those in need. What we have created is scalable. We've got the operational blueprint now, so going forward we should be able to implement this wherever the need may arise," said Tom Crawford, MUSC Health chief operating officer.
To date, most patients will experience mild to moderate illness while treating its symptoms and recover within a week from the onset of symptoms. These patients can be triaged through the online platform, receive a lab order to report to the site and complete specimen collection without having to leave the vehicle. 
"We must find ways to protect the vulnerable populations within the community, as well as the health care work force so they can continue to care for all patients who need us, COVID-19 or otherwise," Cawley said. "I really appreciate the willingness of the Citadel Mall property owners, Richard and Ginger Davis, for being excellent public and community health partners and working with us to help address this evolving public health situation."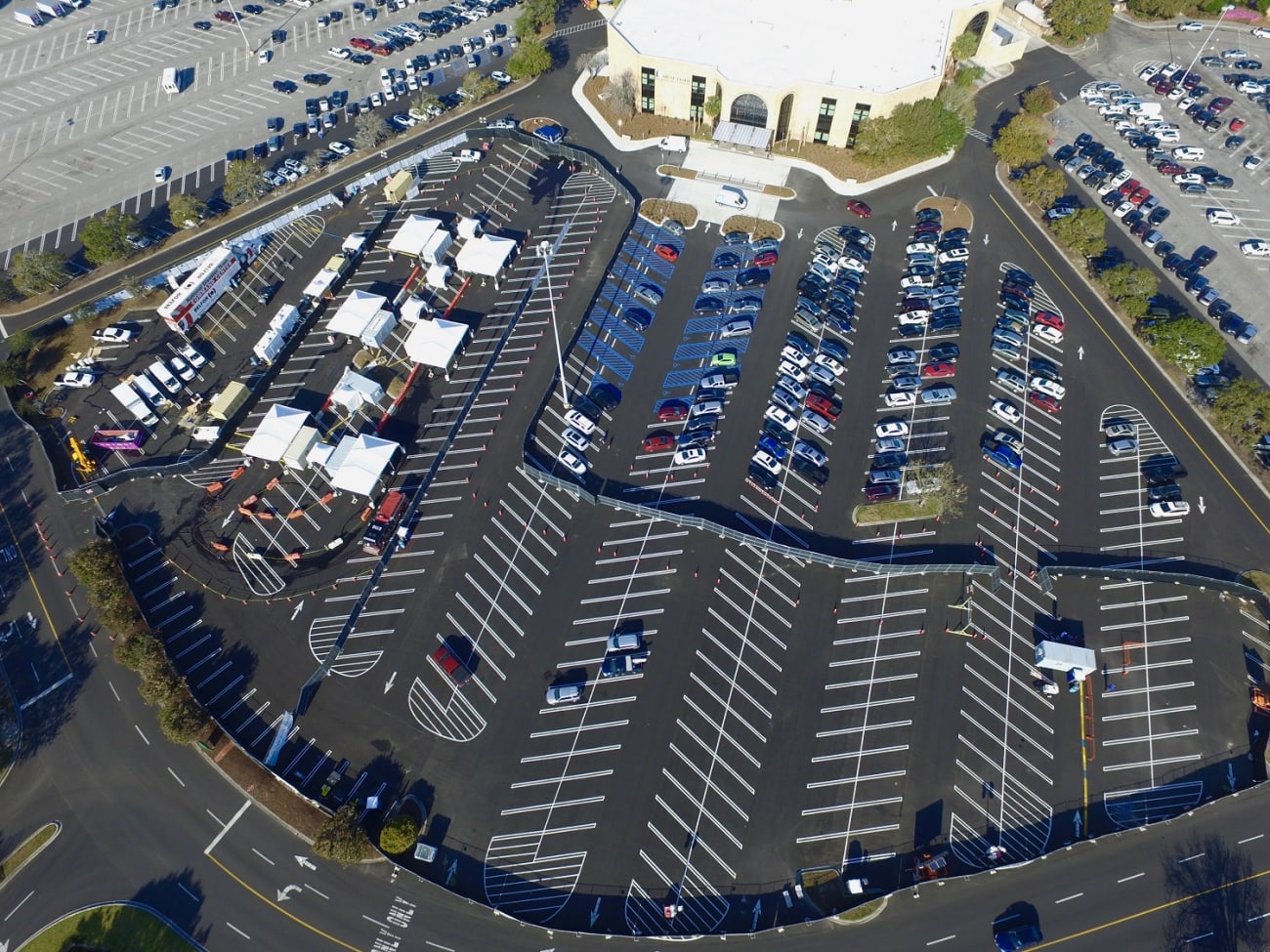 An aerial view of the specimen collection site in West Ashley.